Discussion Starter
·
#1
·
Mythman has Part I on TKF: His hookup lasted longer and a much bigger surprise!
This was one of those days you loose sleep over the night before a trip! Planned on meeting Mythman and Whodatman after lunch and fishing 1/2 day for a few Sharks and some Spanish Mackeral.
Paddled out to where they were and almost immediately had to turn around because of an approaching storm. Did manage a small Spanish Mack and lost a Jack Cravelle. I was happy to be on the beach with the lightening in the distance.
After the storm passes we decided to go out but not as far--yeah right! I hooked up on a Jack Cravelle on my casting rod with an artificial swim bait. After pulling me over 1/2 mile and 1 hour later it decided to break my rod and line. Now I'm exhausted, out of water, and ticked for loosing the long battle. It was a 20+ pounder...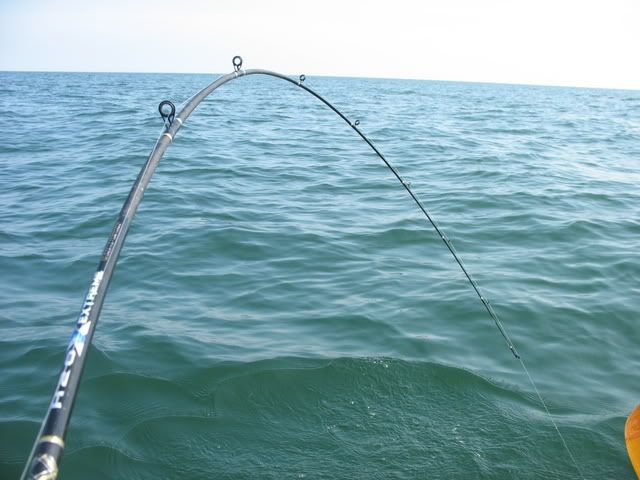 Unmistakable gold glimmer: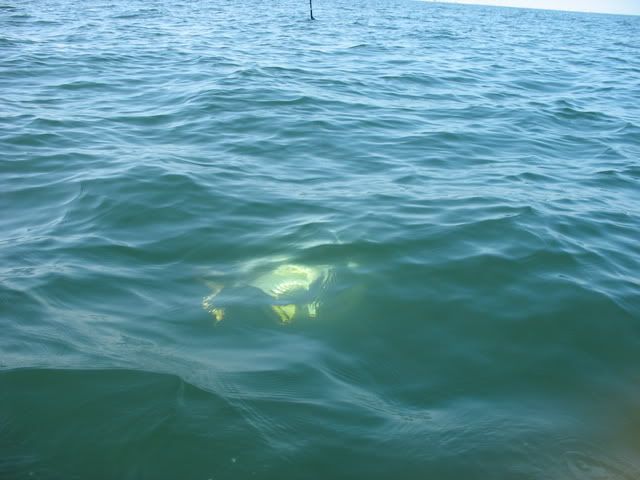 Toward the end of this battle I noticed a Tarpon roll in front of my kayak about 100 yards away. I immediately think cut the line and pursue the Tarpon but I wanted to fishing what I started. After the beating I threw my Mullet out in disgust because I just realized I left all my Tarpon leaders at the beach. Beat twice! A second later my clicker goes off slowly and I figure Atlantic Shapnose or small Blacktip, I was WRONG. After setting the hook I get pulled FAST and the drag is till ripping. About 45 minutes we get a look at this Shark: 6.5' Bull Shark, from pectoral fin to pectoral fin it looked wider than my 28" wide kayak!
Next to the kayak:
Leader shot:
Paddling in Troy (Whodatman) noticed some bait moving and we inspect. Tarpon rolling and feeding in all directions--no Tarpon leaders... I remembered that I did have my artifical lure box and went to tying. 1st cast--BAM, hooked into a 5' Tarpon but it spit the hook after one small jump. Catching Trout and Redfish on topwaters is one think but Tarpon is just a completly different story. After the Tarpon spit the hook the Jacks were all over it. Caught this small Jack and kept for Shark bait.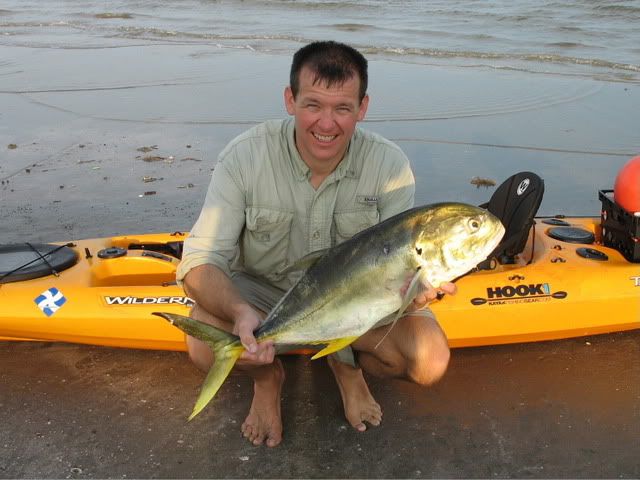 We're still trying to catch one of these Tarpon and still seeing them in all directions from the 5 footers all the way up to 7-8ft and ~200lbs. Without disclosing the details :lol: I get another hard run and this one is hooked solid for the moment. By the way, the sound of the reel with a Tarpon on the end of your line is just rediculous! I get to see a 6.5-7.0' Tarpon tail walk twice and a couple of small jumps and the hook pulls. Ergggggggggggg. That feeling only lasted for a brief moment. We were both extremely exhausted and it was time to throw in the towel for the day.
What a trip even with the lost fish! We weren't expecting much the 2nd time out but we were all surprised. Fish were everywhere, Jacks schooling under the kayaks with Sharks following and Tarpon rolling all around. It just doesn't get any better than that. That is until one of use actually lands one!!!
Thanks for the pics Troy, I owe one for today! I take it your hooked now? Your first trip out you see all this and catch a couple of Blacktips in the process. Post up that pic!