Discussion Starter
·
#1
·
Dbullard, Nick, and myself went crappie fishing this afternoon up Kickapoo Creek. This was the first time I have fished the evening since they began this unbelievable bite, and I wondered if it was as good as the morning.
It was not for us, although they were pretty much biting the whole time, there were many small fish. We ended up with 29 keepers, some real nice ones. I bet we caught at least that many more small ones.
We started fishing a place I often go to and the fish were on a pretty good bite. They ranged from mostly too small to a good one about every three or four for the first hour and a half. To a good one every 6 or more. Every time we debated about moving, someone would catch a real nice one.
As it got late, all of the crappie armada left the junction of the creeks and we slipped in, anchored off over the best school we saw in 11' and fished.
They bit just like the day Mark and I fished, a couple of pecks, a long pause, a couple of more pecks. And if you don't let the fish put a bend in the rod and hook itself, it will get off.
Every fish we caught with a couple of exceptions were nice big slab crappie.
Nick caught the two best fish of the day with a very innovative rig.
I think it was a hook on bottom, a length of line then a leader with a jig head with a dead minnow, 3/8th oz I think he said, and then between the last two eyes of the rod a bobber that would let the line slide through, but indicate a strike very well. The fish hit the dead minnow. I think he came up with this to counter how light the crappie were biting.
That is a cool rig, and he caught those two big ole slabs when dbullard and me both were batting naught.
After that it was catch a nice big one or a long time with nothing going as the school made it's circuit around the pool of water.
Those crappie in that pool are awesome fish. They rule that pool of water where Kickapoo meets Rocky.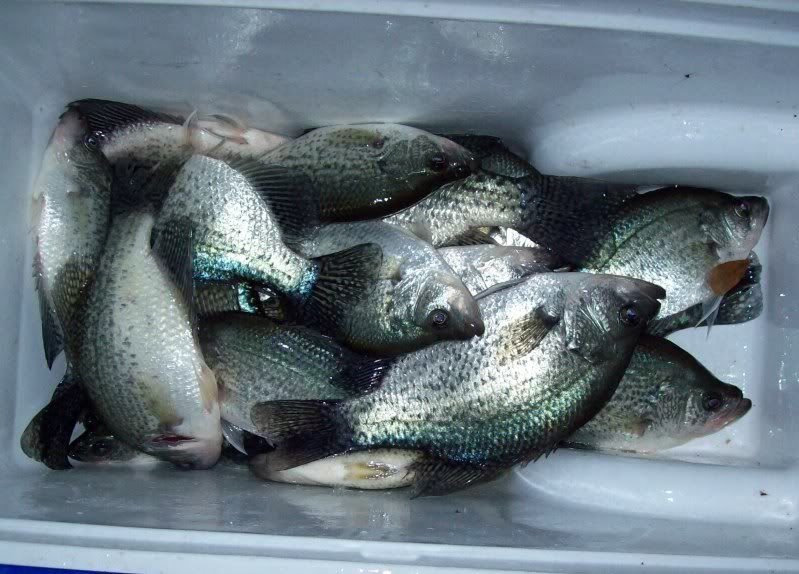 SS