Discussion Starter
·
#1
·
40 Pounds Of Halibut Missing From Man's Luggage
"My fish! They stole my fish!"
Those angry words from Ray Bolano in a phone call to his daughter, Barbara Kagerer, after returning to Seattle from an Alaskan fishing trip.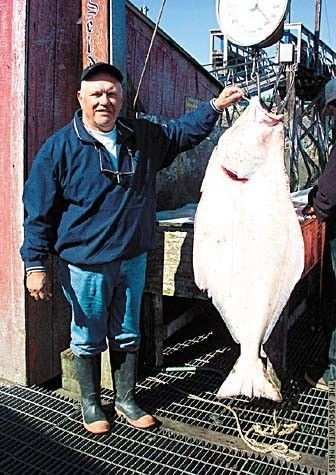 ​
"I really just feel violated," he told the Anchorage Daily News. Somebody stole 40 pounds of halibut he had caught and carefully packed into his luggage.
"My dad caught the biggest fish on the boat," Kagerer said, "75 pounds and 60 pounds." Her mom even caught a big one -- 50 pounds, she said. There were pictures taken and phone calls made. You catch fish like that, you gotta brag, right?

On June 24th, Bolano picked up his carefully packed coolers from an Anchorage seafood shop -- each weighing less than the airline maximum of 50 pounds -- and checked them at the curb in Anchorage, got on a Continental flight and headed home..
When he arrived at Sea-Tac, Bolano found one of his coolers intact as it moved along the luggage carousel. But the other wasn't secured -- the rope he tied it up with was missing. When he opened the second cooler, he found the rope -- and a few halibut scraps. The rest of the fish was missing.
Bolano marched over to a Continental claim agent. "Their attitude was 'This happens all the time. Just file a claim. It was pilfered -- so what? Just file a claim.' Not that there was a security breach." Then he said the agent told him he'd signed a waiver on the coolers. That, needless to say, didn't sit too well with Bolano.
"We'd signed a waiver for loss or spoilage," he told the Daily News last week. "Not for disappearage!"

Bolano suspects the halibut heist took place in Anchorage because his flight was delayed. He also suspects the TSA screeners who went through his luggage.
That's not unheard of. Last month, nine TSA screeners were arrested, accused of stealing from passengers' luggage. Over the past six months, screeners have also been arrested in Denver, Detroit and Indianapolis, according to the New Orleans Times-Picayune.
Bolano is still hopping mad. In his interview with the Anchorage Daily News, he wondered, if someone could sneak his fish out of that cooler, "what's stopping them from putting a bomb in there and putting it on the plane?"