Discussion Starter
·
#1
·
Sorry guys this gets a little long!
Tyler and I ventured to the lease in Rocksprings last Friday for a little Father/Son birthday hunting trip. After doing a good job over the past couple years on the does and hogs this was to be his first shot at a buck. Dad was after the trophy and he was to get the cull.
I picked him up from school a little early on Friday and we hauled rear to the lease for the evening hunt. About 5:15 a very large mainframe 8 walked out that made me think mule deer when i first saw him. I quickly asked Tyler to move aside saying "daddy's got to shoot this deer". I thow up the gun, get a good rest and fire off the 200+ yard shot. The buck doesn't move an inch??? I chamber another round and once again squeeze off the shot and too my delight the deer rares back and then kicks. A little odd movement but non the less I feel as though I have put a good shot on the animal and tell Tyler that we need to go find the deer. After looking and finding no blood, I tell him I must have hit high and we will come back in the morning for a look and find the deer. After several camp stories of the "good" second shot I put on the deer and several beers I settle down for some sleep.
Sun up the next morning Tyler and I are in the same blind watching 2 does when out comes Mr. Big once again!!!! ***! He is again a 200+ yard shot and in hot pursuit of the girls. I fire another round and he hits the ground. Finally I am positive I have my deer.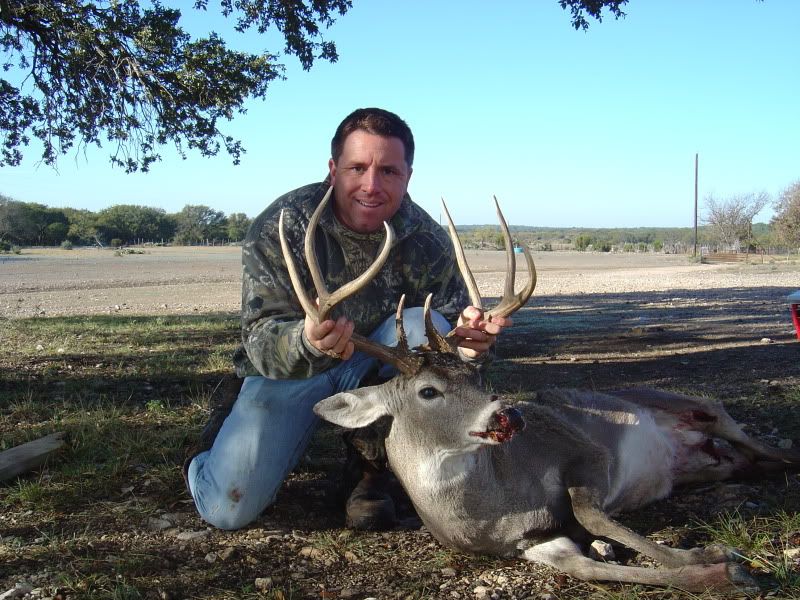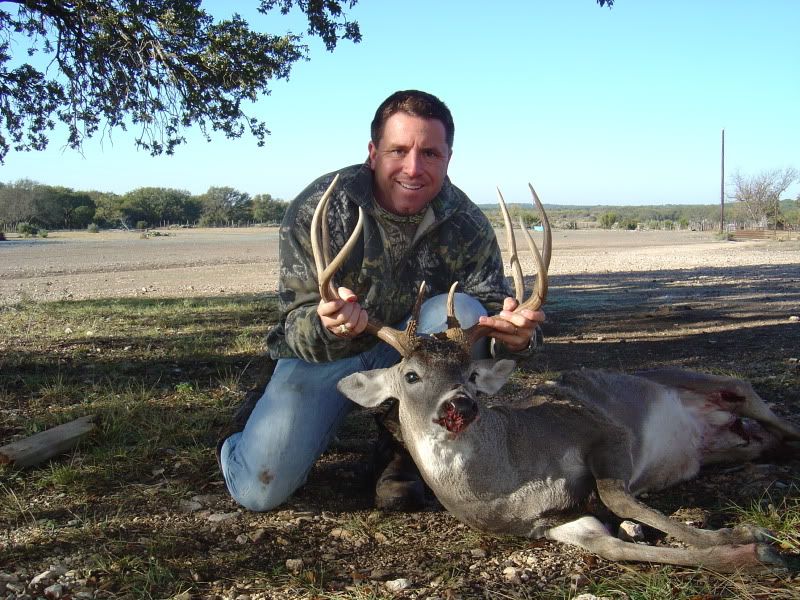 This is my model 7 remington 7mm and I can drive tacks with it on the range. I have for years struggled in the field with this gun but being stuborn headed I keep trying to make it work??? I do not have this problem with my other rifles. I have my suspisions on why I am soo bad with the gun, most of it revolves around the rest hight in the blind vs. my vertically challenged body. Anyways enough on the gun!!
That evening we are now in full pursuit of a cull for Tyler. After 10 minutes in the stand we have a mainframe 8 walk out that makes mine look like a nubin buck. Tyler and I admire the deer for 30 minutes before a second mature deer walks out. I tell Tyler how amazing it is to have both of these deer in front of us. He asks me if the new deer has brow tines??? Since I hadn't checked I threw up the binos and took a look. Sure enough this old guy was lacking completly on one side and only had 1.5 inches on the other. After going through several other considerations in my head I ask Tyler "Do you want to shoot this deer?" He shakes his head yes and like the true pro that he is, puts up his 243 and takes the shot. The deer jumps and kicks his back feet and I knew he had driven the bullet home. I asked him how he felt about the 90yd shot and he says "I made a good shot." After waiting a few minutes we went to find his deer a meer 40yds from where he had shot it. At this point he was shaking with excitement!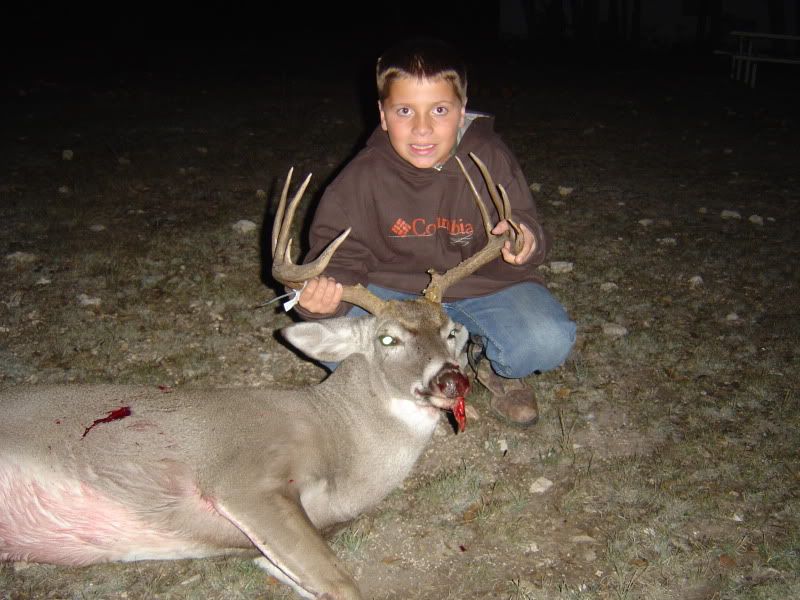 Needles to say this was a proud day for me and a great way for him to celebrate his 10th birthday! Tyler has reminded me several times what a bad shot I am...I just smile and agree.