Discussion Starter
·
#1
·
When it is cold, everything seems to slow down a bit, including the fish. They are still biting, and we are still catching our limit, but the fish are slow moving and the bite is very light. Live bait on anchor is working the best for me but if I can find some birds working then dead sticking sassy shad or flukes is working also.
Saturday January 2 I took out my first trip for 2010. I had a group of 4 and it was cold as usual. I headed up north and set up a drift to start out the day. We caught a couple right off the bat but they didn't want to stay with us so I dropped anchor. A couple more fish came in the boat but they never fired off for me. I moved around a couple more times before I found a spot where they would stay with me. I was on anchor in 48 ft. fishing 5 cranks off the bottom. We stayed there for the rest of the trip with a slow but steady bite and we finally pulled in our limit of 40 fish around 11:45. It was a great start to a new year. It turned out to be a beautiful day and I was grateful to be out on the water.
Despite the cold, winter is one of my favorite times to fish. The fishing is still good and can be great at times but the lake is virtually abandoned of all but a few boats. Also, the eagles and waterfowl are abundant on the lake and it makes for a different, more peaceful experience then you get in the crowed summer months. My winter special is still going and will last through the end of February.
We've recently added a new addition to our family. His name is Beare, and he is a Chesapeake Bay retriever. We've had him about a week now and he is wonderful. When he gets old enough, he will make an excellent hunting and fishing buddy for me.
Wed. Jan 6
With the cold weather on the way, I figured I would go load up on bait for the weekend before it got too cold. Mark Bannister Jr. went with me to fill his tank up too so we decided to do some fishing while we were out and about. We tried a few spots on the way out with no luck. We were marking lots of fish everywhere we went but no takers. Finally we dropped anchor on some fish that would bite. We were on anchor in 35ft. fishing live bait and flukes down 12 pulls. Yes I said I was fishing a fluke with a 1 oz sassy head while on anchor, letting it down 12 pulls and putting it in the rod holder. It didn't take long for the fish to come up under the boat. The live bait drew them under us and we were catching them 2 and 3 at a time. We each had out 2-3 rods and we were setting hooks with both hands. Half of them came off of the live bait and the other half we caught with the flukes. Most of the fish were in the 2-7 lb range. The biggest was around 12 lbs and was caught with a fluke. He nailed it while it was sitting in the rod holder and hooked himself. The rod was buried half way in the water by the time we got to it. I love winter fishing! That fish made it well worth getting out and it was nice to spend some time on the water.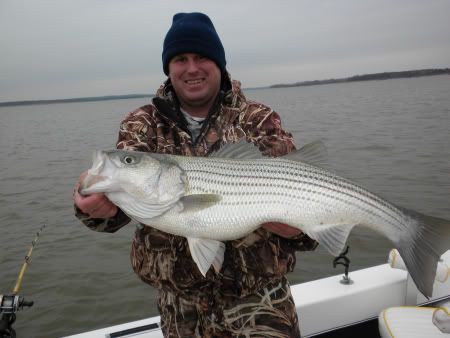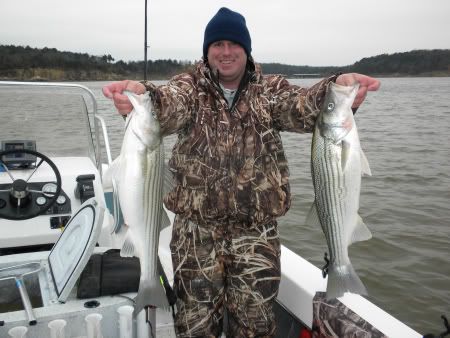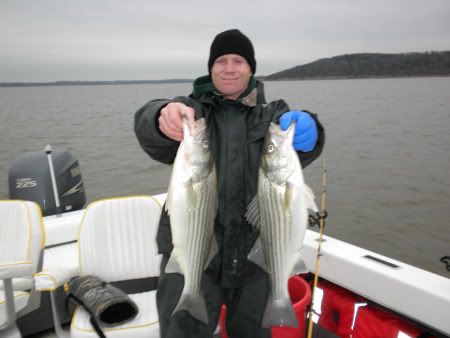 Good Luck to All,
Brian