Discussion Starter
·
#1
·
Its Christmas time again here on Lake Texoma and I would like to wish everyone a Merry Christmas! We have been enjoying some very beautiful weather and some great fishing here on the big lake the last few days. The striper fishing remains good. We're still catching lots of fish on every trip with the occasional big fish thrown in the mix. The fish are getting set into their winter patterns and the majority of the fish are starting to move towards the river necks, however, there are still large schools of fish hanging out in the main lake on the river ledges in 50-70ft of water. The blue cats are beginning to school up in the deep water but I haven't found anything consistent yet. I've been too busy catching stripers to hunt them down.
Saturday December 20th I had a group of 2. I was excited because I had a full tank of bait which is something that I had to go without on my previous trip because there was none to be found in the Little Mineral arm, so I trailered my boat and caught bait elsewhere for my trips this week. It is a days work but it is nice to not have to get up while it is still dark in the cold to go catch bait. I decided to start the morning in one of my favorite catfish holes that was very productive for me this time last year for catfish and striper. I marked several fish and it looks good so I drop anchor in 60 ft. of water on a ledge. There are plenty of stripers there and it doesn't take us too long to put our 20 fish in the boat with a big one that weighed about 12 lbs but not a single cat. As we are deciding whether to go throw lures or try a different location for cats, a rod goes down. It's a blue cat, good eating size, so we hang around. Then, another rod goes down and another, all blue cats. We finally had a school under us and we boated 14 cats to add to the box with the biggest at around 10 lbs which we released. We spent the whole morning on the same anchor.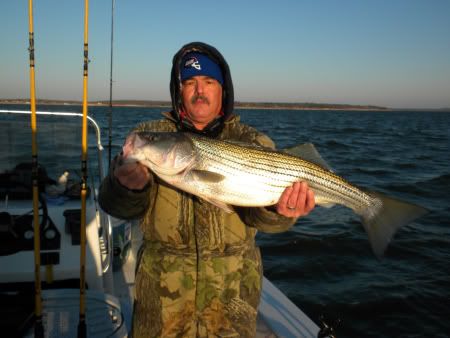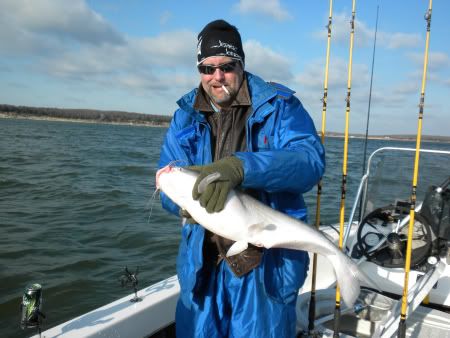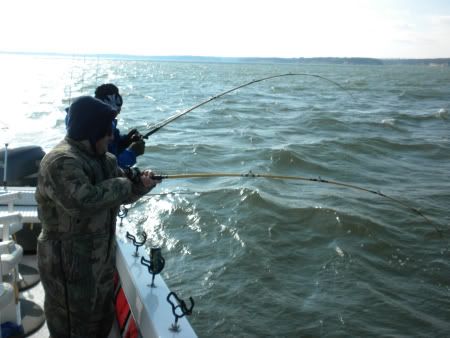 Sunday I had a group of 4 arrive from Nebraska to enjoy some of our warmer weather here in Texas and spend the next 3 days with me fishing. They drove all night to get here so we did an evening trip so they could get some rest. We left out around 12:00 and I headed right back to where I had got them on Saturday. I marked several fish but they quickly disappeared leaving me with 2 stripers on that anchor. On Saturday there had been a north wind and it was blowing off the ledge I was on into the deep water. Sunday the wind had shifted to the south so I decided to find a new ledge with the same conditions, the wind blowing off the ledge and in the same depth, as the day before. I find the structure I'm looking for and pitch anchor. The fish grouped up under me again and began to slowly bite, one fish here, two fish there. There were lots of fish under us and we should have been catching them faster but the bite was light and the fish were lethargic. After catching several fish, they left me, so I went on to the next ledge. I would catch a few more fish and they'd leave again. We kept this up until the sun went down and finally managed to put a good box of fish together. We kept 37, just 3 shy of our limit, and released several more small fish.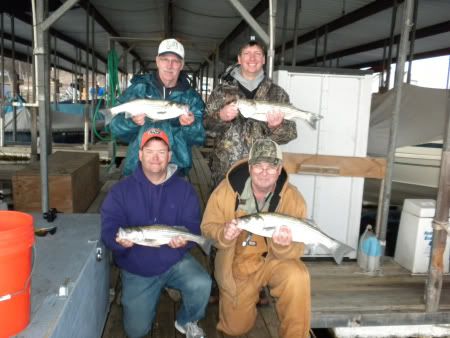 Monday I had the Nebraska guys again and we left out at 7:30. I start out in my catfish whole again but with no results, I don't waste much time there. We have a south wind again so I go back to our most productive ledge from the previous evening. The fish are still there and seem to be biting a little better. We hung out there all morning picking at the fish until around 11:00 when they shut down on us. We fished another hour and managed only 4 fish so we called it quits. It turns out that we had landed on keeping 37 fish and came back with 3 fish shy of our limit for the second time. The guys have now given me the nickname of 3 shy Brian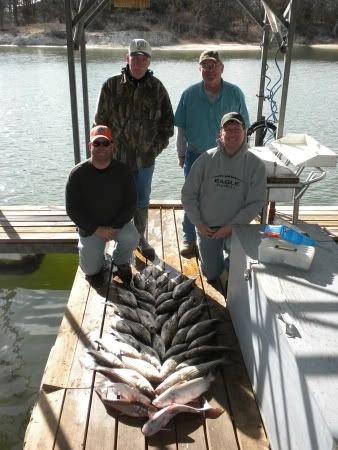 Tuesday is the last morning that I have with the Nebraska guys and I want to do something different to try to break the 3 shy mark and get into some better fish. The weather conditions have improved and I'm feeling optimistic about the day. For a change in scenery, I decide to head north to see if the fish are biting any better up there. Now, I have not been able to find fish in anything less than 50 ft. in the main part of the lake, but it has been my experience during this time of the year that the fish up north and out west can be found in shallower water and are more aggressive than the fish in the main lake. As I am making my way up north I start to mark several fish and see birds working over deep water. It is very tempting to stop but after having a sluggish bite in the deep water I'm hunting fish in the shallow water so I keep moving. I finally make it to my destination and mark several fish in 40 ft. of water and drop anchor. I'm not sure if it was the weather or the location, but the fish are defiantly more aggressive here than they have been the last 2 days and are, on average, fatter than the fish on the main lake. They're still biting the same, just a light pull on the line, but we were catching more of them. After a couple of anchors and doing a little drifting, we put our 40 fish limit in the box around 10:00. The fish seem to be biting better on a drift under the birds in 25-30 ft of water. We spent the rest of the morning throwing sassy shad with some good success. The sassy shad bite produced bigger fish, but not as many as what we were catching using bait.
Wednesday morning I had a group of 6 with 4 young boys which were a hand full. I love kids and they were a delight to have on the boat. There is nothing better than the excitement expressed by children when they catch a big fish. The 2 youngest boys were at that inquisitive age and followed my every statement with "Why?" with a few "Don't touch that" Thrown in from me for good measure. This pretty much sums up how our conversations went though out the morning. It was one of the warmest days we had seen in a while with temperatures in the 60's with little wind and a thick fog on the water. I decided to head back up north since the fishing seemed to be better up there and we throw anchor on a good school of fish in 35ft. I had my work cut out for me and I was working 3 rods to let the kids reel in all of my fish. They learned fast and we were soon catching fish. We stayed on the fish all morning and made it in just before the wind started blowing with 50 stripers 10 sandbass and 2 cats in the box.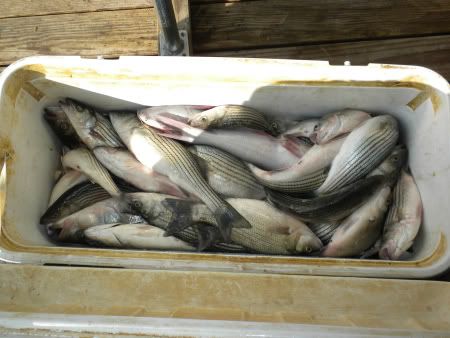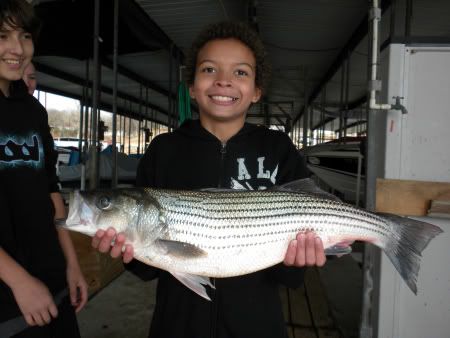 Well, it looks like our warm spell is over and the cold weather will set in again. It was nice while it lasted and I'm glad it came during all of my holiday trips. A new year is upon us and I would like to thank everyone for helping Stripers Inc. to have a successful opening year. My winter special is still on and will run through the end of February. I have finished my coast guard requirements and I have the new Oklahoma guide license so I'll be ready to go on the first of the year. I still have several trips open for January and the catfish should start biting consistently in the coming days so don't miss out on some great winter fishing!
Wishing everyone a Merry Christmas and a Happy New Year,
Brian Prichard
Stripers Inc.
www.stripersinc.com
(903)815-1609