Discussion Starter
·
#1
·
I just got moved in to my new house and got the internet set up and I finally found the time to put out a fishing report. It feels great to finally get everything moved, now if I could just get all of my stuff to jump out of the boxes and put up where it belongs. The cold weather has definitely set in and the fishing remains as good as ever. The striper fishing is phenomenal and the catfishing is picking up. The big cats are still hanging around the cleaning docks put should start schooling up in the deep water any day now. Live bait on anchor in 30-50 ft is producing fish as fast as you can drop the bait down. Lures are working equally as well. 5" glow sassy shad with a 1 ½ oz head and chartreuse spiked tail are the ticket fished in 15-30ft and slow rolled along the bottom under the birds.
Tuesday December 8 I had a group of 5 set up for the AM. Of course it was cold and rainy. Bait had been getting tougher over the weekend so I gave myself more time to catch bait that morning and start throwing my net around 4 AM. My usual spot was completely empty of shad so I start my searching. I threw my net around 100 times in every marina and every spot that I had ever caught shad in around my area and by daylight I end up with about 5 shad 7 stripers 3 crappie and 2 perch. I can take a hint and realize that this is my sign that I am meant to be a lure fisherman this morning. I run to the Tackle Box for some extra lures to ensure that I have enough for the day and away we go into the blistering cold pouring rain. For the record, I gave my customers the option to wait out the rain and cold and go out around noon but they came prepared for cold and rain and were ready to catch fish. It took me a little while to get them dialed in on the lures. Every rod had a different style of soft plastic on it to try to find the pattern for the day. At first we had fog and it was hard to find the birds. I tried a couple of spots where I was marking lots of fish but no results. I finally found some birds working out in the deep water and the fish were piled up under them. We varied our retrieves to try to find the speed the wanted put could only manage a couple of takers here and there. I was just about to give up on the lures and I was on my way to look for bait when I found some birds working in shallow water. This was what I was looking for and told my customers to "Get ready! We're about to catch some fish!" And catching was what we did. We started hooking them up at 2 and 3 a time on almost every cast. It didn't take us too long to put our 50 in the box with the biggest going about 10lbs. I normally release them that big but as you can see in the picture that this one had to go in the box. It seemed like the later it got the better the fish were biting and the more birds were working. We finally called it quits around 1:00 and headed in to clean fish. I never saw another boat on the water and the birds were working all over the lake. I love winter fishing! I am grateful to have had such a successful trip on a day that I couldn't catch bait. My next trip is Saturday and I'm going to go out searching for bait on Friday. Sometimes in the winter bait is easier in the daytime.
Duck season opens back up on Saturday and there are lots of birds down if anyone is interested in a cast and blast. Don't miss out on my Winter Special which runs from now through the end of February. My winter rates are $100/person (3 person minimum). Trips include a minimum of 4 hours on the water with all bait and tackle provided and your catch will be cleaned with the red meat removed. Discounts still apply. Children 12 and under as well as active military are ½ price and catch and release trips receive a 10% discount. You can check availability and book your trip online at
www.stripersinc.com
or you can call me anytime at (903)815-1609 and I'll get you set up. I also provide gift certificates which will make a great holiday gift.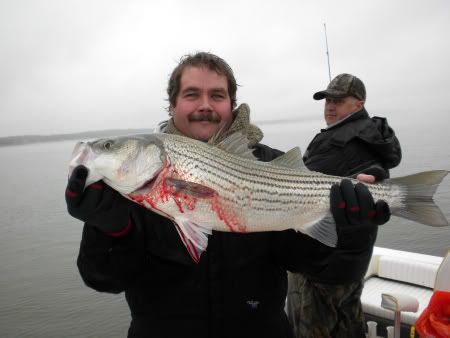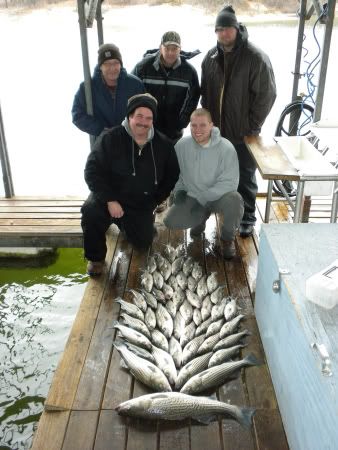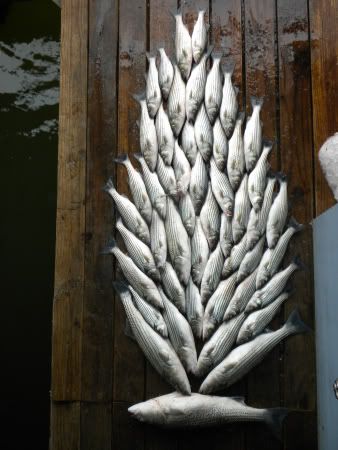 Your Lake Texoma fishing guide,
Brian Prichard
Stripers Inc.
www.stripersinc.com
(903)815-1609