Discussion Starter
·
#1
·
This was the first year I was not traveling and was actually able to go hunt turney. California added a fall season about 2 years ago which is nice. They allow us to take one bird for the fall hunt. It can be a hen, tom or jake. My good friend and coworker Nate found a new area last weekend on opening day. He saw a few birds but did not get set up in the right spot. I was traveling last weekend so I couldn't hunt (typical) so we planned to go the following weekend.
Yesterday we left his house around 3:30am and drove to the spot. We walked in the dark and set up where he thought the birds were coming off the roost. As soon as it was grey light he gave a call and the entire area just lit up with clucks and gobbles. I looked at Nate with a big smile and whispered "Holy **** there are a ton of birds!". We waited and then heard them leave the oak trees only to fly way to our left. We counted at least 20 birds with some better size in the mix.
We waited hoping they would come our way but they continued on and crossed a road and then on to private land. We walked around and found the "Turkey Highway" that was about 5 feet wide and covered with tracks going in two directions. I decided we should set up there in the afternoon when they would come back. So we went and hunted some quail and ended up with a few birds each. Took a nap and called my roommate to come meet us for the afternoon hunt.
He showed up a couple of hours later and we made a blind from some brush. We set up and waited for about 90 minutes. All of a sudden we see two hens about 80 yards away, then 4 more, then 6 more and more and more. Then 3 jakes and a tom show up. Next thing we know there are almost 30 birds in front of us
We waited pateintly and wanted the birds to come in closer. My roommate couldn't quite see them from his position a few feet to my right so he slowly crept my way. He alerted the birds and they froze about 50 yards from us. Eventually a few smaller hens came our way and once again my roommate moved. I got ****** and told him to stay still. We were running out of light and the birds were too bunched up to take a clean shot. Soon the birds new something was up and they started to turn around. I gave the three count and we all fired at the same time. I watched my bird drop and my roommates bird go down. Nate hit the jake (or small tom maybe?). We took our shots around 40-50 yards with good effect on targets
Those 3 1/2 Winchester loads hold a nice pattern at that range. Expensive but worth it.
Finally my buddies got birds after trying for 3 years. I got one on my first trip so I am pretty lucky. My roommate and I both had hens that weighed about 8 pounds each. The jake was 14-15 pounds. We humped out as it was getting dark and took some pictures. I'm still waiting to get the pics from my roommate that we took in the field. But here are the pics from the house: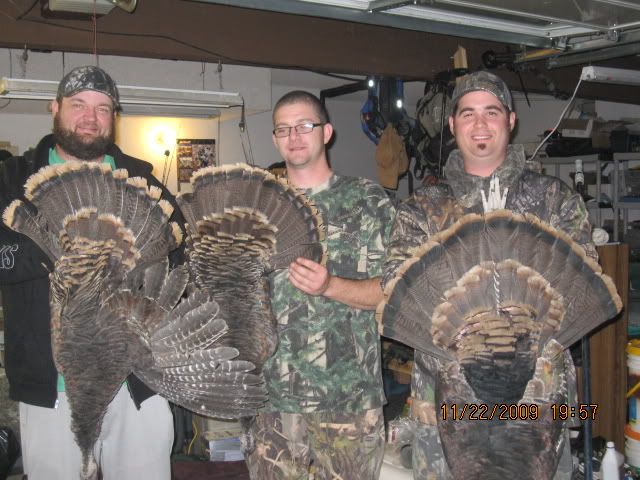 The beard from the jake. I have no idea how you tell the difference between a jake and a tom so maybe one you with some experience can chime in.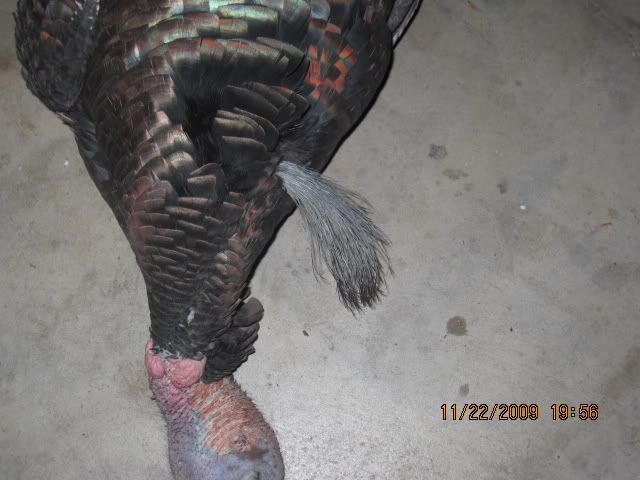 Needless to say we were all excited to get our first birds. I hope I can hunt the spring next year and try for a big tom!