Discussion Starter
·
#1
·
Sometimes in life "its the journey not the destination", but this was NOT one of those times
It was ALL ABOUT the Destinations and the Plan!
The weather was slick glass calm and uneventful other than some very unusual cloud formations. It had been 8 weeks since I had been, because I have been sidelined by a broken foot.
THE PLAN: Go to the reef and jig some AP's, then high-speed troll up and out to the groupers.
We went directly to the reef and jigged around it a bit. Normally the fish are concentrated more to the SW, but this day we found them on the NE corner? Once there we got the usual suspects consisting of Amberjacks, Almaco Jacks and African Pomps with the Potroast Sandflea Jig being the shining star of the morning.
Next stop was the grouper grounds. We picked up and took off for the 5 mile move at 13knots and I threw out two high speed rigs. We ended up getting 2 of 3 bites we had, putting a splash more meat in the box.
Then we jigged Peewee's Playhouse. Our guest had never jigged before and the 300-400ft along with the 400g Katana's was a bit much for a beginner, so we set him up with some bait and Zack and I started working the big jigs. Zack jigged the first one, then I got one, then Zack got another. Our guest couldn't seem to get it done with the bait, so I made one drop for him that yielded one more, but insisted on reeling up in the rod holder since it was cheating
Next we took off from Peewee's to find a Jack Smackdown. We didn't put the high speed stuff back out, because we already had gracious plenty in the boxes and I was afraid we would catch more. Zack suggested we could release them. I said who are we kidding, if a wahoo comes to the side of the boat, I know I will kill it, so we just kicked back a rested for a second.
Up on the rock and back inshore on the reef we found a few jacks, including one 50lb Almaco that fought me from the bottom all the way up to the top. He was a great way to finish off the day for me. We cut and ran early in the day to get Zack home to meet his company from out of town, with sore arms and full boxes.
The only tough part of the day was that it was too nice. You couldn't back troll to steady the boat or you didn't move at all, so you had to just drift, so you were at least moving a little. Although there was no wind and less than a knot of tide, it still caused a small amount of scope, which in turn led to lost jigs. But for as pretty as it was, I'll take it every time.
Morning Clouds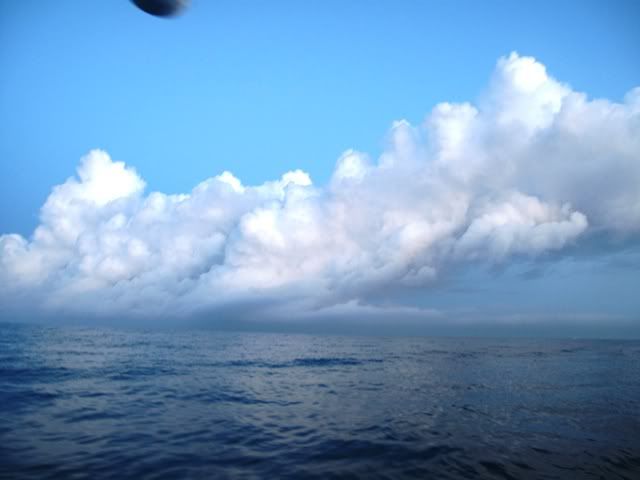 Pomps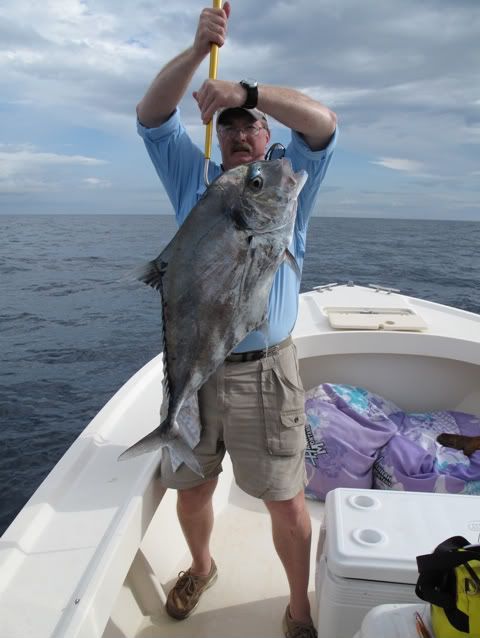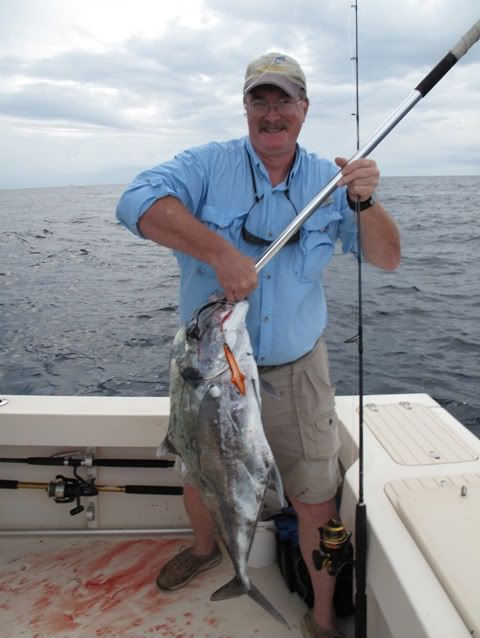 Mr. Zack with an AJ
High speed action
I even anglered one
This is why I wont ever use circle hooks if I don't have to.