Discussion Starter
·
#1
·
The alarm clock went off at 2:00 a.m. saturday. I hit the snooze due to the fact that I didn't go to bed until midnight. I fell back asleep thinking of "am I forgetting anything? Where am I going to get fresh bait? Did the guy at Academy spool up my new what a bargain $40 citica? Don't forget to bring the ice in the freezer. Do you know how to get there?"
After numerous thoughts, I realized I wasn't even sleeping, instead I turn my head and see the clock glaring in the corner reading 2:58 a.m. Time to go. Grabbed the keys and left Huntsville at 3:00 a.m. on the dot.
160 some odd miles later, I get a phone call from King Cronie saying "I found a spot where the mullet are holding up." I then anxiously, but excited stepped on the gas pedal going from 65 to 70 mph. Each thought of catching slot reds, the early morning trout, loads of fresh bait, bullreds, sharks the tachometer needle would increase. I awoke from my daze and looked at the speedometer reading 85mph. Better slow down. Finally, the last stretch of 2031 that leads to the beach. What the heck is that? A draw bridge? Too late. I jumped that thing like the Dukes of Hazard going 50. And yes, the bed extender held quite nicely with the yak still attached.
I get to the end of 2031 looking around for the beach entrance at the jetty park. Drove in circles around the parking lot, drove through a subdivision then back to the jetty park and saw an opening to the beach. I find the softest and most difficult path to test the 4x4. Cakewalk, but this doesn't seem like the beach area, looks more like the mouth of the river. I see a fellow kayaker (Cadruss) walking around the beach. It's still dark out and he's flashing a flashlight all over the place. I rolled down the window and politely ask him, "Where in the world is the beach entrance?" As he's explaining on how to get there, mosquitoes start sneaking in the truck. I'm being eaten alive as he's telling me how to get there and something about him getting stuck in soft sand. I told him thanks for the directions and take off.
After finding the entrance and driving 1.7 miles to base camp. I thought "Did Cadruss just tell me he was stuck and I (a fellow TKF'er) just left him in the cold?" I thought "go back and pull him out or go catch fresh bait???" :lol: :lol:
Pics will tell the rest...
sunrises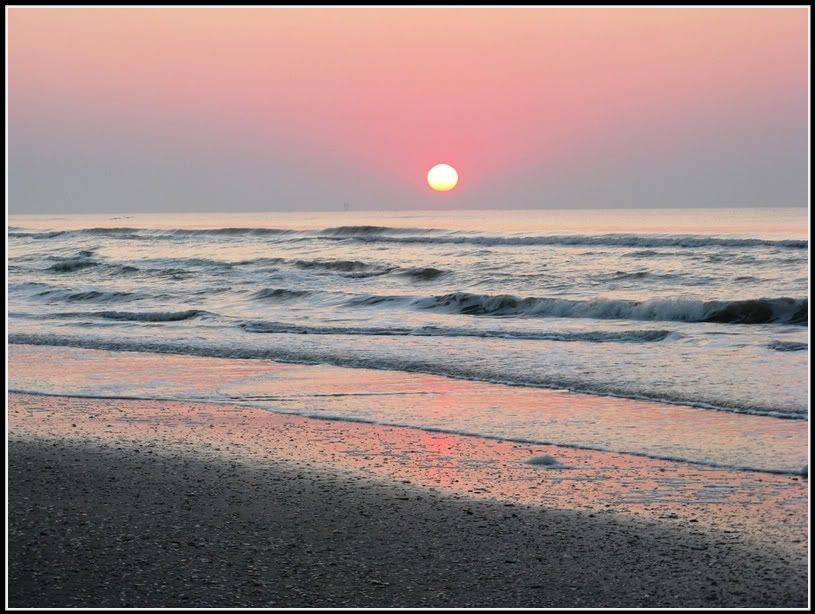 TJ early morning trout fishing (the gut was really deep and only accessible by kayak or by swimming to the sandbar.
CherryMac
FlaFish w/Chazbo in the background
King Cronie hooked up w/ Mythman in the background