Discussion Starter
·
#1
·
Had same 3 people for 2 days. I had 3 generations. Father, son, and grandson. Ran the same trip and almost the same results. We ran 32 miles from the pass and set up shop. The first day we managed 4 keeper yellowfin from just over legal to about 60 pounds. The action remained fast as we were into a lot of 25 inch yellowfin and some rainbow runners.
The ride in was rough so I ducked into the river for calm seas which extended my trip time and fuel cost by a little. Well worth it for the comfort.
The second day was almost the same but the seas were a lot calmer. There was a slight difference. The fish we landed were all in the 50-70 pound class.
We had about the same type of fish on all day with a few losses that seemed like good fish. The usual rainbow runner, a few shorts and a blackfin.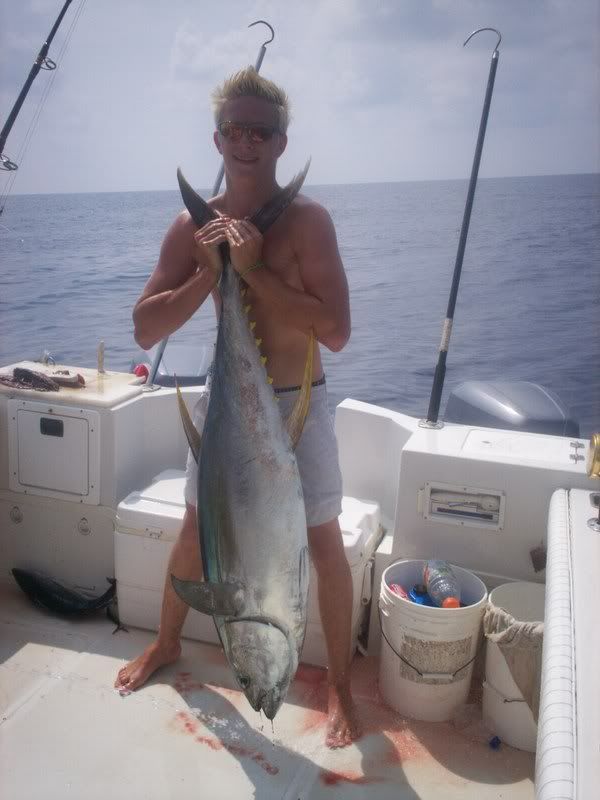 We ran home dodging storms all the way. I tried to out run one but it kept pushing me in the wrong direction so I made an about face and caught the edge of it just before getting into the pass.
The third day I had 5 people. We left the dock about 6:20 am. I was looking to do a little better. I found some nice bait but not as much as I would have liked. When at the floater I set up shop just like the last 2 days. I started trolling live bait and was hit instantly by 2 mahi and lost them both. My next set brought in an undersized yellowfin and another lost fish. The next set put a skip jack in the boat. This was not working.
I decided to start chunking and it paid off. On the first drift I had 2 fish on. I managed to keep them from getting tangled as they crossed several times. We landed both of them after a long Chinese fire drill. On the next drift we had a hit that almost spooled a Tiagra 50 with 130 pound Jerry Brown hollow core line. Without adjusting the drag I start the boat and begin chasing it only to have it drop the hook. A lot of line to put back.
While on another drift one of the guys makes a blind cast with a popper and hooks up to a nice tuna. The Penn 9500 did what it has always done and another one hits the box. We now have 3 in the hole.
Here comes the interesting part. Bear in mind we are fishing in 2800 - 3000 feet of water with a very distinct current.
Just before noon we set up for another drift and get a good hookup. About 30 seconds the other rod goes off. They instantly cross. As the guys try to maneuver to untangle the lines one of them falls on the deck and my star rodeo rod with the Penn 50w reel that Joann just bought me a month ago loaded with Jerry Brown 130 hollow core line goes over.
I let all the action go on and I get into my cockpit seat and bite my tongue till it bleeds. The fight on this other horse goes on for about an hour but something is different besides me not getting into the action. I notice the boat is not drifting as it should be. This fish is pulling the boat in another direction. The fish had gone through 4 of the guys and some a second time. After a long time we finally are gaining on the fish. Soon we see color. As the color gets closer there is a pot of gold. The hook on the crossed line caught the guide of the rod that went over board and after acting as a fish flipper we finally started to gain enough to grab the other rod and reel in a very tired 70 pound class yellowfin tuna. The odds of getting a $1000.00 outfit that went over in 3000 feet of water is almost unimaginable. One with a 70 pound tuna still attached to it? Nobody will be able to top that.
We made another drift and landed our 5th fish. Some severe storms were building up and looking nasty. One more drift without a taker and we headed in about 1:30. I ran 25 miles along a 12 mile long, 3-4 mile wide thunder storm with water spouts and high winds that was going about in the same direction as we were.. We were able to stay out of it and I only went 10-15 deg. off course. The afternoon storms built just behind us all the way in.
The rainbow runners went for a friends bait that night and for Eddie the next day. This is how we hit the dock with all my rods and reels.
These are typical summer time tuna. There is always a boat that brings in one 100 plus but nothing much over 200 this time of year.
Life is Good!